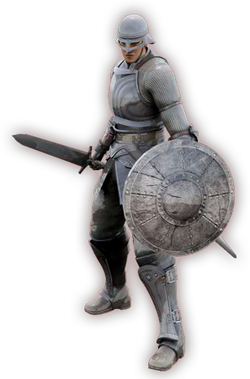 The Soldier is a class in Demon's Souls.
Description
Edit
"A low-class soldier that always stands at the frontline of battlegrounds. This is the standard soldier type with especially high vitality and hard armor. Besides a straight sword, they are equipped with a spear, thus broadening their battle style."
Starting Equipment
Edit
Starting Stats
Edit
Oddly, the Soldier starts with 20 Bolts but no Crossbow to use them with.
Ad blocker interference detected!
Wikia is a free-to-use site that makes money from advertising. We have a modified experience for viewers using ad blockers

Wikia is not accessible if you've made further modifications. Remove the custom ad blocker rule(s) and the page will load as expected.