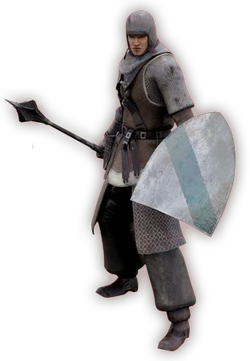 The Priest is a class in Demon's Souls.
Description
Edit
"A soldier of the cloth that belives in the God of this world. This is a tough character that is equipped with chain mail and shield. They can heal themselves with miracles, but their lack of dexterity makes them poor at handling advanced weapons."
As aforementioned, the Priest utilizes Miracles, has a high defensive power, and has a good damage boost via strength. However, the character won't be able to use certain weapons with any proficiency.
Starting Equipment
Edit
Starting Stats
Edit
Ad blocker interference detected!
Wikia is a free-to-use site that makes money from advertising. We have a modified experience for viewers using ad blockers

Wikia is not accessible if you've made further modifications. Remove the custom ad blocker rule(s) and the page will load as expected.