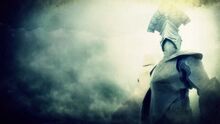 Garl Vinland is a character in Demon's Souls and voiced by Josh Cohen who also voices King Allant.
He is the brother of Selen Vinland and part of the Vinland Family. He is also the guardian and speculated lover of Maiden Astrea.
He will stand still and hold his ground during the boss fight even if you have hit him, only attacking when the player is close enough to touch him.
Can be parried.
In human form:
In black phantom form (Pure White World Tendency after defeating Maiden Astraea):
Ad blocker interference detected!
Wikia is a free-to-use site that makes money from advertising. We have a modified experience for viewers using ad blockers

Wikia is not accessible if you've made further modifications. Remove the custom ad blocker rule(s) and the page will load as expected.