Crescent Moon Grass is a healing item in Demon's Souls.
Crescent Moon Grass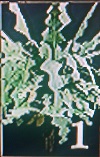 Found
Dregling (Common Drop)
Dregling Merchant (Purchase)
Depraved One (Drop)
5-1 (Corpse)
Use
Heal small amount of HP
Weight
In-Game Description
A medicinal herb named for the lunar phase. Recovers a small amount of the user's HP.
The effect of moon herbs changes according to the condition they're in. Crescent moon herbs are picked when they are very young.